Financing – Borum A/S
How to get financing for your Borum machine
We can help you finance your purchase of our machines. Borum can now provide advantageous financing solutions to its customers from all over the world, backed by EKF.
No matter if you are a new customer looking to finance your first Borum machine or a long-time customer planning to expand your already existing collaboration with Borum, we are here to offer you a financing solution, backed by EKF.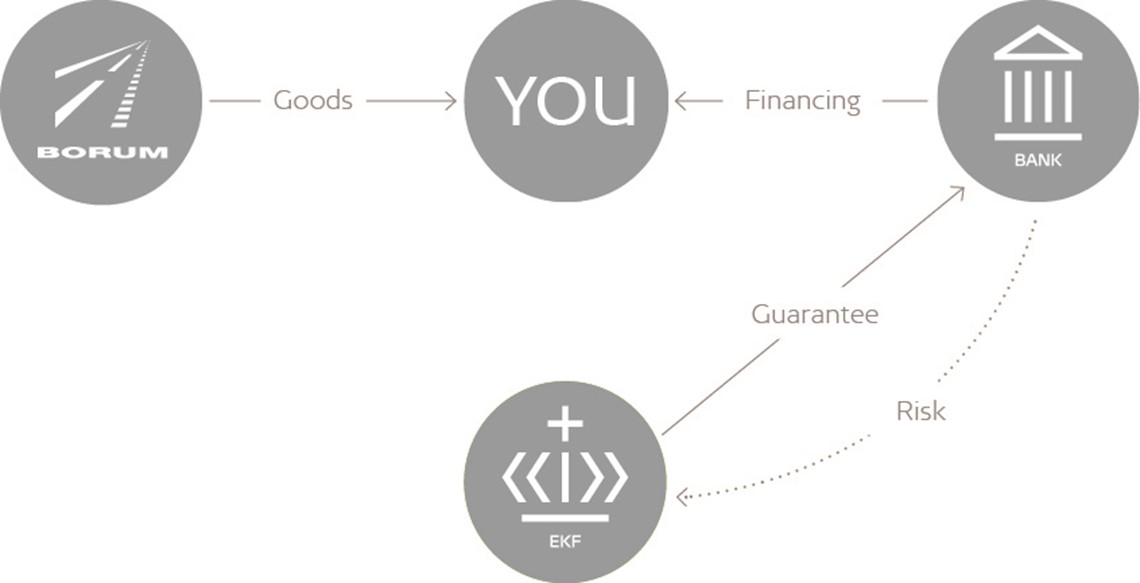 How does it work?
If you want to apply for our financing program, you first need to get in touch with our Sales team at Borum Headquarters in Denmark. Together with the EKF, we will develop a financing solution for you.
EKF provides a bank with a guarantee for a credit facility and assumes the greater share of the risk. You then secure financing from the bank and can go ahead and purchase Borum machines from Denmark under an advantageous financial arrangement.
EKF can help with financing up to 85% of the export contract.
How much?
The premium depends on your country, creditworthiness, currency, general market conditions and the repayment term. In addition to this, you pay rates and charges to the bank. The total costs are typically lower than the market average. EKF can also provide you with an indicative offer.
See general conditions for your country here.
About EKF 
EKF is Denmark's Export Credit Agency.
EKF helps Danish companies make it possible and attractive for customers abroad to purchase Danish products. They do so by helping raise financing and by insuring companies and banks against the potential financial and political risks of trading with other countries.