The road marking industry is demanding new features that mean equipment manufacturers must rise to the challenge – or lose out!
In the road marking sector, there is currently a rising demand for more ef cient marking equipment and documentation systems, as well as systems that offer better retrore ectivity. Heavier road usage, extreme weather events and tighter purse strings are also putting pressure on the road marking industry. On the safety side, councils and road authorities are calling for solutions that provide higher retrore ectivity.
And for road marking contractors and operators, reliable equipment and detailed on-the-job documentation systems are necessary to complete jobs on time and on budget.
Straightforward approach
In an industry that involves many variables, seasonal operating windows and ever-changing needs, suppliers must be quick to adapt. An equipment breakdown or a lack of ready-to- use material can be a major setback to tight deadlines, budgets and line quality.
"We always keep our ear to the ground so that we can respond quickly to changing industry needs," explains Lisbeth Knudsen, area sales manager at Borum.
 "Our products are designed to make road marking easier and make each project run smoothly.
With the right technology and equipment, the road marking process is not only easier but downtime is kept to a minimum,
which helps keep costs down and makes it obvious that it pays off to put your money in high-quality machines."
To increase road safety, particularly in wet weather, the demand is for higher retrore ectivity. In wet conditions, a lm of water builds up on traditional Type I road markings, which reduces retrore ection. To combat this problem, Type II pro led or raised lines with a dot structure have good visibility and re ection, particularly
in dark or wet conditions, and also provide an audible warning for drivers.
To respond to the challenge of greater retrore ectivity, Borum has designed a three-in- one combined extruder and 'dot 'n line' solution. Available in a basic or advanced model, which can be retro tted on most machines, the dot 'n line system applies extruded base lines or dots separately, as well as unique combinations of base lines with dots.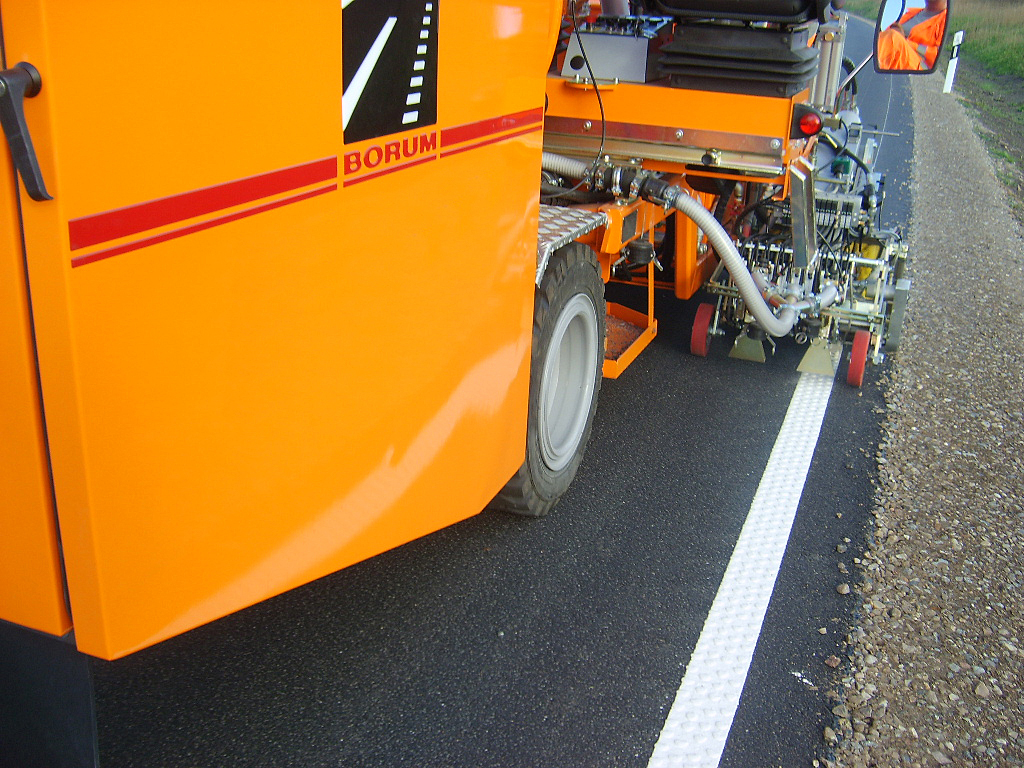 "Borum machines are acknowledged as 'top of the pops' when working with thermoplastic," explains Ingo Hansen, product manager at Borum. "Heating is essential for creating a high-quality line, and one of the features that ensures a good line is the design of the heating circuit for the thermal oil. In addition, a material recirculation system in the head ensures constant ow and prevents solids settling in the extrusion valves. The recirculation of the material also means that you can move the machine from one site to the next without the material deteriorating and start applying lines straight away."
Detailed documentation on demand
Tighter budgets and accountability practices have made detailed documentation a vital part of the road marking process. To help contractors document every step of  a road marking project and get the most from available working hours, Borum has designed a new road marking computer known as LineMaster.
The LineMaster brings all road marking tasks together in one simple solution and is currently installed in Borum machines operating in more than 30 countries around the world. Fully programmable, it can help control everything from line application and pre-marking to reporting and invoicing.
"Our customers were looking for an effective way to register and document the details of each job," continues Knudsen.
"With the LineMaster, information is right at hand so operators can monitor the line type and length, the total marked area and also the amount of material used." After a job is completed, all of this information can be saved on a USB memory stick or smartphone and transferred to the of ce computer, which makes administration tasks and billing easy. And new functions  such as extra software and upgrades can be easily installed.
In many parts of the world, road marking is a seasonal activity – weather conditions can stop a job or delay the process. To get the most out of the ideal conditions, equipment must be reliable and easy to use and maintain.
"Minimising the risk of breakdowns and downtime is vital for completing a job on time and on budget," concludes Hansen. "Our machines are robust and some of our customers operate them 24/7 to complete
a project – and they stand up to the test. Also, job parameters differ from place to place and from contractor to contractor, so we offer a range of machines and preheater options so that the melting capacity and application method meets the job requirements. And of course, we test all our machines before dispatch to the customer to make sure they're ready to go."