Perry Theophanous, Borum's Australasian partner, was delighted to meet many of Borum's customers at the RIAA/RMF Roadmarking & Signs Conference which took place in Queensland, Australia in August, an event which gave him the opportunity to demonstrate Borum's newest development, the LineMaster computer.  The Borum LineMaster computer and software system helps operators control all road marking tasks, from line application and pre-marking to reporting and invoicing.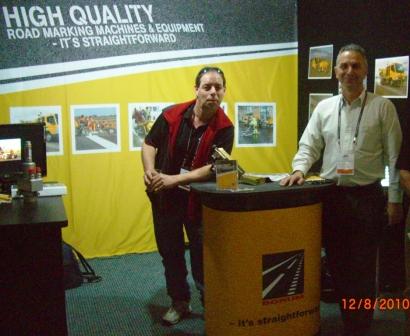 Nevertheless one of Borum's important business partners in Australia, OZ Linemarking,  was already familiar with the product.  Mr. Ian Clark, Managing Director, and Mr. Peter Haines, Contract Manager, from OZ Linemarking had namely taken the long trip from Australia to Denmark in April to visit Borum and to view the Borum equipment and workshop.  At this occasion they got familiar with the new innovation from Borum and they had also the possibility to get a customised demonstration of Borum LineMaster by Service Manager, Johnny Jørgensen.
Ian and Peter are very concerned that OZ Linemarking is constantly on the forefront of new technology and they were very interested to learn how their company can increase profit by using Borum equipment, including the new LineMaster computer.
OZ Linemarking is an Australian road marking company, based in Dandenong, Victoria.  The company completes road marking contracts all over Australia with use of Borum equipment.