Borum will be attending the 2016 Intertraffic exhibition taking place between 5 - 8 April, 2016 in Amsterdam. In order to welcome all of you – and to be able to present the next generation of Borum line marking machines - we have upgraded our stand again this year. We should be very happy and proud to welcome you to stand 01.518 showing you our most extensive presence to date.
Getting to know the new Borum Master 2000 -  an agile line marking machine designed for marking smaller roads and urban areas
Based on customer feedback, various market requirements and with our customers in mind, we have been restlessly working on further developing our line marking solutions. Therefore, we are happy to introduce a new addition to the Borum Master family - the Borum Master 2000.
The Borum Master 2000 has been designed for marking roads that require a flexible and straightforward line marking machine. From city areas to urban and interurban roads, the Borum Master 2000 has been developed to handle both smaller jobs and longer road stretches, while being able to adapt to more difficult and narrow surfaces.
By having an agile setup and unique control through the new generation of Borum's advanced LineMaster computer, the Borum Master 2000 makes operating the machine convenient and easy. The speed pilot is now integrated in the arm rest, while the computer panel is mounted on a 3D adjustable rod. This ensures perfect ergonomic positioning for the operator and a clear view of the line marking equipment and application. Overall, the Borum Master 2000 series is designed to ensure a high efficient work flow and high quality line marking.
Borum Master 2000 at a glance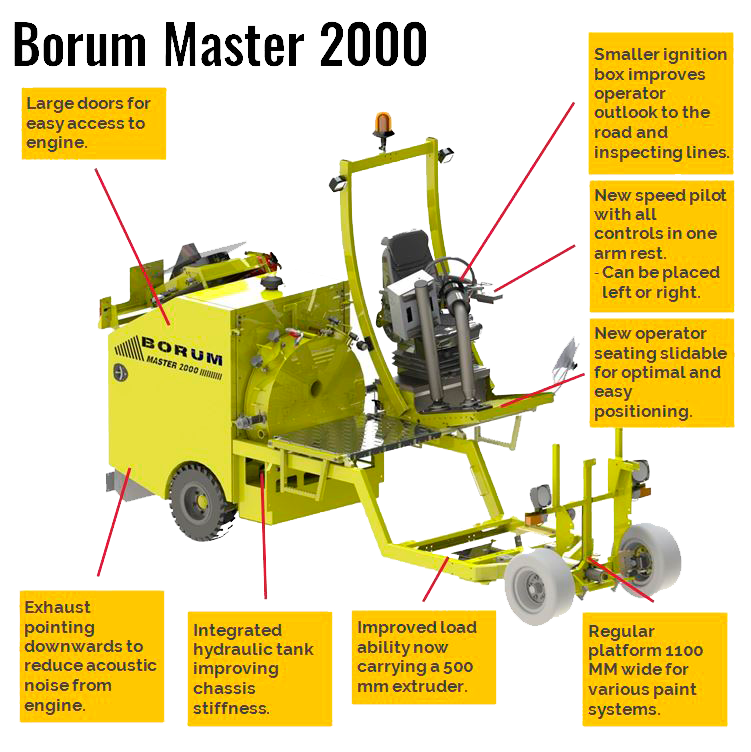 Material tank
Choose between:
Thermoplastic: 265 Litres (70 US Gallons)
Thermoplastic spray: 290 Litres
(76,6 US Gallons)
Cold Paint: 440 or 2 x 220 Litres
(116.2 or 2 x 58,1 US Gallons)
Cold Plastic: 440 Litres (116.2 US Gallons)
Capacities
Fuel tank: 50+5 Litres (14,5 US Gallons)
Hydraulic tank: 55 Litres (14,5 US Gallons)
Glass Bead Container: 115 Litres / 170 kg
Pressurized (max. 3 bar) 
Dimensions (without equipment)
Length: 4150 mm / 163,4"
Width: 1100 mm / 43,3"
Height: 2465 mm / 97"
Speed range: 0-16 km/h (0-10 mph
We invite you to come at the Borum stand 01.518 where we will be showcasing the new Borum Master 2000 for the first time. Borum sales and technical staff will be available to answer your questions and assist you in choosing the right line marking solution.
Don't hesitate to 
contact us
 if you have any questions.
- it's straightforward
The Borum Team