Borum presents its newest technology, the LineMaster computer, to its Australasian customers at the RIAA/RMF 2010 Conference in Queensland, Australia,
Borum's Australasian partner, Perry Theophanous, was very delighted to meet many of Borum's customers and business partners at the RIAA/RMF Roadmarking & Signs Conference in Queensland, Australia, 11 - 12th August. Perry was especially proud to demonstrate Borum's new LineMaster computer which was available at the stand in the exhibition area.  The LineMaster is now sold with all new Borum machines.
Driving on roads especially at night times can be a challenge, and statistics show that driving at night-time increases risk of fatal accidents almost three times. Road markings are important traffic aids in guiding the traffic safely. General Sales Manager at Borum, Karsten Kristensen gave a lecture of how there has been a dramatic increase in the interest of profiled markings in Europe - lately with a focus on Dots and dots on line.
Managing Director at Borum, Ole Munch, presented a view of "How to make and save money in road marking. A Win/Win Solution". He explained how increased public investments in enhanced road marking would create a win-win situation for the overall economy. It would mean saved accident costs, which is good news for the public spending - and increased activity for the private businesses being active in the road marking industry.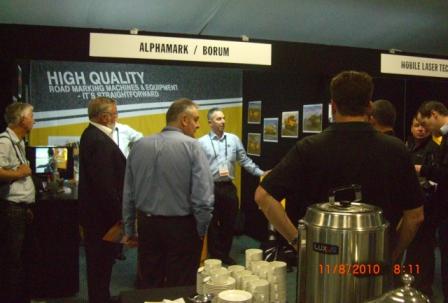 Ole Munch stressed that a well-marked road is a safe road. And for a road marking contractor, a job well done is a profitable one.  Having to cope with variables such as tight deadlines, changing weather conditions, traffic density and travel time, it is important that both the material, staff and equipment is suited to the job and performs well, time after time...