26/01/2009
The UK-based company Ringway has again invested in a Borum truck solution for thermoplastic application. As National Machine Manager, Ian Manley, says: "I have been driving other machines – but you cannot beat a Borum!"
Why do you prefer a Borum solution?
"What I particularly like about Borum is that first of all the Borum solutions are very reliable. They are working as expected from the moment they are delivered, and when it comes to regular service the design is very "lean" and makes it more simple for us to service the equipment. So you can say that we benefit from Borum's experience with developing truck solutions."
"When it comes to the actual road marking application I find it very easy to work with both the Borum extruder equipment as well as the spray equipment at a good speed giving a good quality line. It is easy to pre-programme the computer and for instance to switch from 1 line application to 2 lines application just by flicking a switch."
Why did you choose a truck solution?
"We also have a few self-propelled machines which we use for city work, narrow roads, etc. The truck solutions give us a high capacity, which means that we can work more efficiently on big road marking jobs especially on motorways.
We already have a Borum truck solution which is about 10 years old, but still going strong. We have fitted a new extruder to it and expect it to last another 2 – 5 years.
We can make about 30 km, 2 mm extruded lines (12 tons thermoplastic material), per day with our Borum truck. We are very satisfied with such a high output!"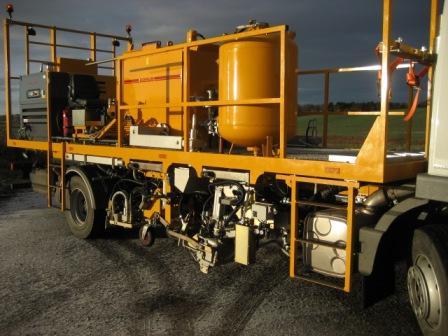 "I also think that the Borum solutions are very well built because of a good construction design/ lay-out. On top of that Borum insists that it is necessary to use good quality parts when building high quality machines and not to settle for cheaper parts, just to save some initial costs. So we are willing to pay a premium price for a better solution – we can see that it is a better investment for us. The return on investment will soon show in terms of less down-time and minimum requirements for service."
"Speaking about service this is another advantage at Borum – we always get a good and quick response when we need spare parts and this is very important for us to keep our equipment running."
If you want to speak to Ian Manley to discuss their new truck solution, you are welcome to send us an e-mail at cks@borum.as and we will pass on your request.