The Borum LineMaster is an easy way of setting and controlling your line marking jobs. The LineMaster is attached to the operator's section of the machine and gives you full control of all your line marking tasks, from line application and pre-marking to reporting and invoicing.
All line marking functions are controlled from this unit, which makes Borum road marking machines simple and easy to use. 
EASY ADJUSTMENT AND SET-UP
With the LineMaster Computer, you can control up to 6 paint or spray guns, 6 bead guns, and equipment with up to 24 shutters. Moreover, it controls all these various sets of equipment in this ONE unit. All important parameters are shown on the screen and can be adjusted during marking.
PROGRAM YOUR LINES AND GO
It is possible to store up to 99 different line types – and arrange these in up to 30 different marking programs. This means that you can make specific road marking programs for different types of roads, e.g. highways, country roads, etc.
Before going on the road, program the LineMaster computer with the lines that you need to apply. This way, it will be very easy to choose the required line while driving.

LOW MATERIAL TANK LEVEL
An alarm can be set to go off in order to notify the driver that the level of material is too low. The level of material is calculated by manually entering the expected line-thickness and amount of material you put in the material tank. This setting helps you by approximating the material consumption as well as when it is expected to reach a low material tank level.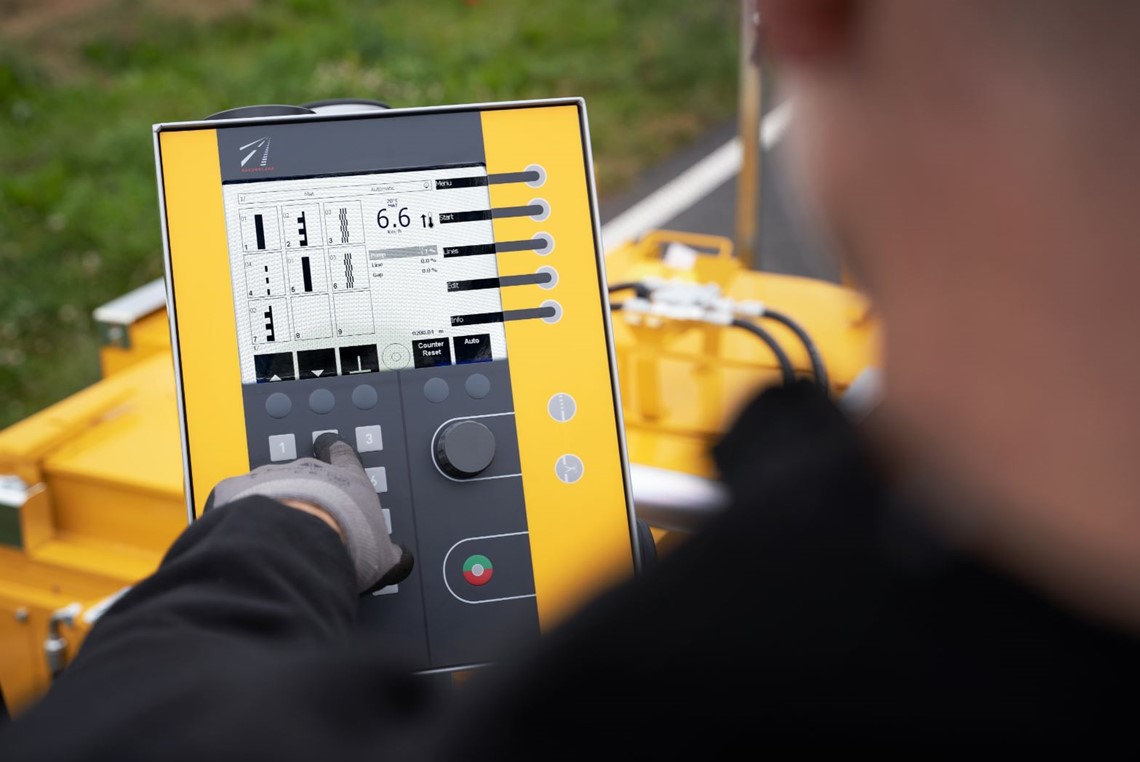 OVERVIEW OF MECHANICAL PARTS
With the LineMaster you are able to view the status of various mechanical
parts of the machine (e.g. compressor, engine) on the computer screen that
will help with correctly maintaining the machine and avoiding breakdowns.
ROBUST DESIGN
The display generates a sharp image, whether you are working in bright sunshine or in the dark. The display's size has been set to 8 inches in order to maximize sight capabilities and comprise all task related info. The computer is also equipped with intuitive big squared buttons that let you easily navigate the menu while keeping your eyes on the road in front.
For easily adjusting parameters and writing text, the computer is equipped with a large control dial that we call the jog wheel. This makes interacting with the LineMaster computer more intuitive and seamless. Overall, it is specifically designed for the rough environment that characterizes the line marking industry.
Value cannot be null. Parameter name: mediaItem
ONLINE FLEET MANAGEMENT 
The BM Online is an online platform that has been developed to help you get a better overview of your road marking machines and activity right from your computer, tablet or phone.
With BM Online you will be able to see online data collected from the BM LineMasters and Master Control found on your Borum machines. This will make it easy to keep track of the machine's activity, be notified if any parts of the machines are overheating and even set service notifications from your desk or on the go.
Furthermore, reporting will be much easier to handle as you can export all this data with the push of the button from the BM Online web portal.
AUTOMATICALLY GENERATED LOGFILE
A log-file is automatically generated during marking, which can be used for preparing a marking report. After finishing a marking job, the log file can be easily transferred to an office computer or other media platforms via a USB stick. The log file is a comma-separated file, which can be used for generating a marking report in e.g. Excel. This makes it much easier for the operator to hand over work reports for administration purposes, such as preparing invoices and reports.
AUTOMATICALLY GENERATED MARKING REPORT
The marking report can include information such as the line type and length, the total marked area, job description/customer name, time for start and stop, etc. You can also add information such as the amount of material used, the air and road surface temperature and the humidity. 
THE AUTHORITIES WANT DOCUMENTATION
The information and details recorded by the LineMaster Computer during road marking jobs can also be used for generating documentation requested by authorities. Therefore, the same data set can be utilized for generating multiple report types and help you save valuable time.
GOOGLE EARTH FEATURE
This Borum LineMaster feature has been designed to provide you with a visual overview of your road making jobs through Google Earth. With the help of Google Earth, you are able to visualize relevant information and technical details (as for e.g. start/end time, line ID; lengths, etc.) of road marking jobs, the road marking job's timeline and evolution at different points in time and much more. See how does it work here.