23/04/2018
GETTING TO KNOW THE NEW BORUM MASTER 2500 
We are happy to introduce the Borum Master 2500, an agile line marking machine with excellent load abilities. It allows for thermoplastic capacities up to 350 liters (92.5 gal.), 2-component cold plastic or cold paint capacities of 440 liters (116.2 gal.) and for two colors cold paint also 2 x 220 liters (2 x 58.1 gal.).

The BM 2500 has a one-seat slidable drive and operator section for flexible working on the left or right side.

From city areas to urban and interurban roads, the Borum Master 2500 can handle both smaller jobs and longer road stretches.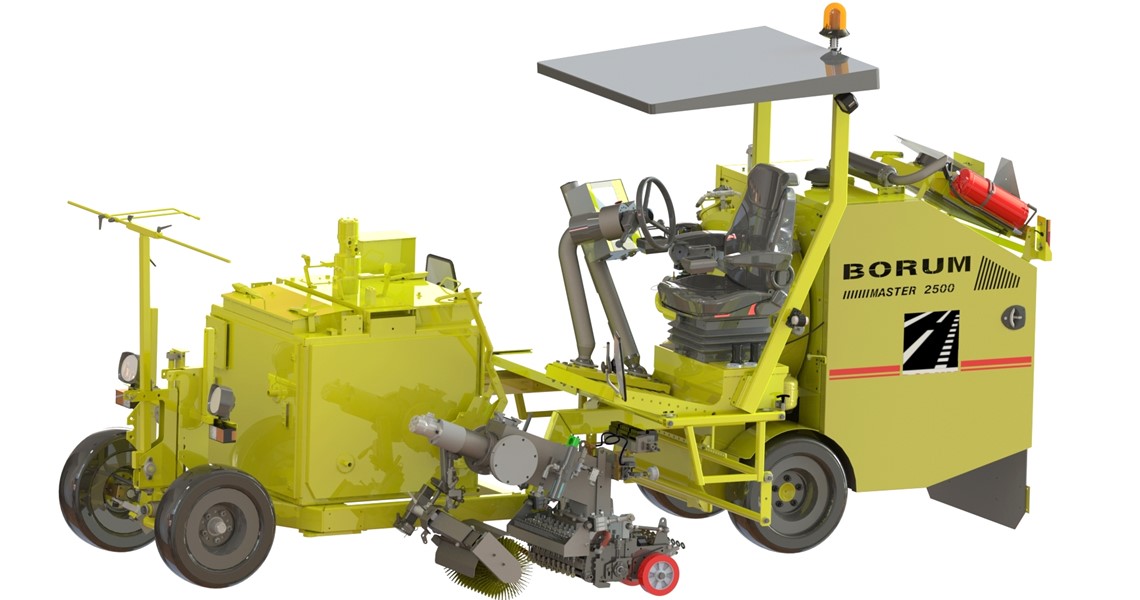 Technical specifications overview
Engine
Manufacturer    Kubota
Type                    Turbo
Cooling               Water
Size                      4 stroke, 2400 cm3/ 146 cu.in.
Rated power      44 KW / 59 HP @ 2700 rpm


Filling capacities
Fuel tank                2 x 50 L (26.5 gal.)
Hydraulic tank       70 L (18.5 gal.)
Glass bead tank   115L/170 kg - 30,4 gal.
                                  Pressurised (max 3 bars or 42,9 psi.
Compressor
Type          Belt-driven, screw compressor
Capacity    1800 L/min @ 10 bar (58 cfm @ 143 psi)
Cooling      Integrated oil-cooling system
                     Air-cooler incl. Water separator


Dimensions
Length      4750 mm (187")
Width        1180 mm (46,5") without equipment
Hight         2520 mm (99,2")
Weight      5000 kg (11023 lbs) maximum total weight
Follow your line machine's activity and status with Borum online
The BM Online is an online platform that has been developed to help you get a better overview of your road marking machines and activity right from your computer, tablet or phone.
Diagnostic data from the machine will be sent to the machine's LineMaster computer. Report data from the LineMaster, together with the received diagnostic data from the machine is then sent to a Borum Server. This data can be accessed via a Web portal, in the sections called BM Online ® Report and BM Online Diagnostic.
Advantages:
Reports from LineMaster available Online
See data on material usage, material temperature
View of the condition of the machine to prevent breakdown
See data on your engine, material tank, compressor, hydraulics and others
Give access to different users and groups
Tool for planning service schedules
Generate reports as CSV file (Excel), PDF file or KLM file (Google Earth)
No data loss. All information is saved on the Server for minimum 5 years