22/04/2021

7 years of marking the roads with Roadwolf
Roadwolf starts back in 2009, when Tarmo Salik, CEO of Roadwolf, started a company for smaller traffic management works. In 2015, Kristo Proosväli joined the company and during the same year, the company upgraded its fleet with all the necessary equipment to start road marking, including a Borum machine.
Ever since their first year of marking the roads, Roadwolf has remained among the leaders in the Estonian road marking market. The company currently has 20 employees and they primarily work all over Estonia. However, they have also marked the roads in their neighbour Baltic countries – Latvia and Lithuania.
"Ever since starting with road marking in 2001, I have been working with Borum machines." - Kristo Proosväli, Work Manager of Roadwolf.
Road safety is one of the primary goals
Structured line types ensure maximum light reflectance in rainy weather and in darkness. Due to the peculiarities of the technology used, rainwater will easily drain away from the lines. As a result, the lines are more reflective during different weather conditions. You can read more about profiled markings here.
Roadwolf continuously tests their lines and see positive results. After testing the light reflection of their road markings in dry and wet weather conditions, Roadwolf has received good results. This motivates them to continue using the stair flex line type for further projects.


Trying out new functional solutions - contributing to road safety
In general, Roadwolf works in accordance with the standards and requirements in force in Estonia. However, to contribute to road safety, Roadwolf is constantly looking and trying new functional solutions that would fit the Estonian climate and specifics.
During winter, Estonia is a country that is likely to get some snow. As this happens, snowploughs get on the roads to clear the snow. As metal ploughs are clearing the asphalt, they may harm the profiled markings, such as dots.
To make sure the markings stay on the roads, Roadwolf has tested and found a way to continue using profiled markings, as this kind of marking significantly contribute to road safety. Company Roadwolf was the first in Estonia to start using the stair flex line type and got this approved by the local road authorities. 



Using Borum everywhere they work
"The advantage of Borum machines is their simplicity and comprehensibility. It also does not take up much space on the road compared to a truck and is visible from far." - Kristo Proosväli, Work Manager of Roadwolf.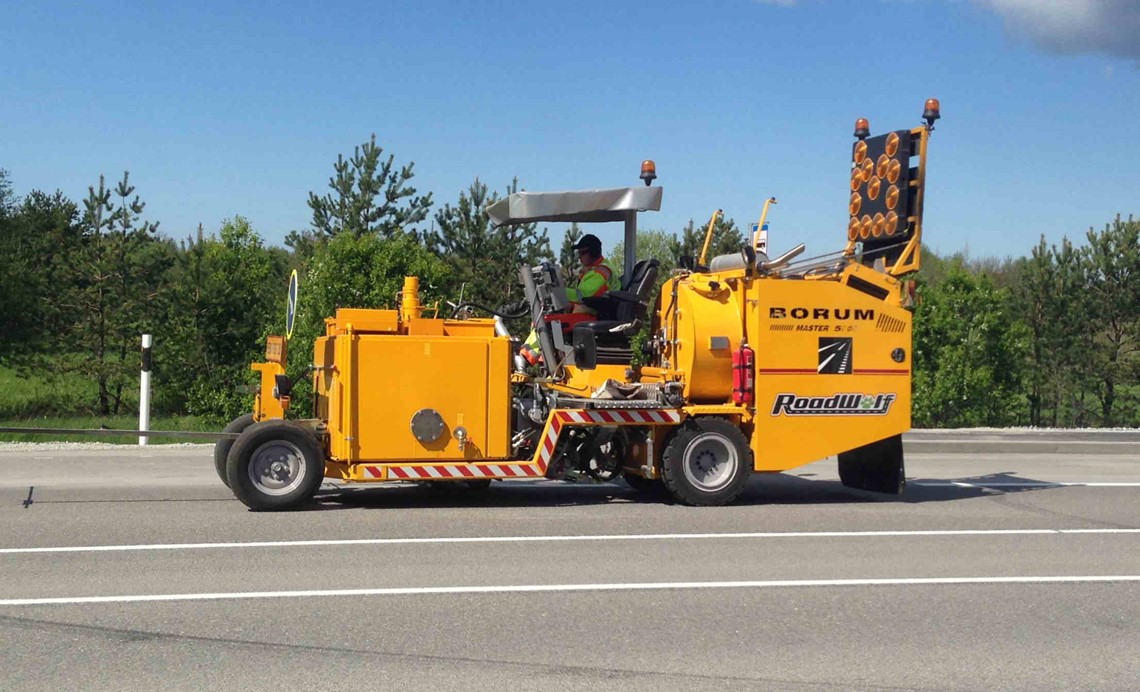 Roadwolf takes on various projects to work on with their BM 5000, including airports, urban areas, new roads and facilities, as well as maintenance of it all. The thermoplastic equipment on the Borum machine that Roadwolf has decided to work with, allows them to create both flat lines and profiled markings. 
With the Dot'n line extruder, they can make the profiled markings and with the spray equipment, they can make flat lines or use it for refreshing the profiled markings if this is needed.
One of the newest and largest projects that Roadwolf took part in was the construction of Tallinn-Tartu highway which was completed in 2020. As the new highway was made, Roadwolf carried out markings on both sides, making it a total work of 26 000 square meters. 
"I recommend Borum if anyone wants a good, high quality, long-lasting and working machine." - Kristo Proosväli, Work Manager of Roadwolf.
Retroreflection measurements
Here are some of the measurements of the markings on the road nr. 15, Tallinn-Rapla-Türi. Roadwolf is following the European Standards for road markings - EN 1436.
In the tables on the side, you can see the testing results from 2016 in dry weather conditions, as well as the same road testing in 2017 in wet weather conditions.
The European standards are as following:
Classes of RL for dry road markings
Class R3 - RL ≥ 150 (for thermoplastic)
Classes of RL for road markings during wetness
Class RW2 - RL ≥ 35
Classes of RL for road markings during rain
Class RR2 - RL ≥ 35